Both Side Wedding Photography Cinematography Packages
" Welcome to Wedding Kathmandu "
---
We do capture that every details of the program that are essential for a wedding ceremony. Rituals, venue and decorations, table settings, menus, talking, smiling, and other moments, all are specials to be captured, specially the Brides and Groom. But one thing should be kept in mind; not over shoot anything even bride and grooms
NPR 16000.00 170000
Wedding Cinematography Photography Packages Bride & Groom side
(
engagement-wedding-reception
)
Our 3 Day Wedding Package provides you with 1 photographer 1 Videographer for 7 hours on your engagement Day 10 hours on your wedding day and 6 hours on your reception day capturing all the essential elements of your wedding professionally and creatively. Choosing from the captured images, the photographer will present about 2500 edited high resolution photos (800 from engagement 1500 wedding day and 700 from reception) in a personalized online gallery where you can conveniently view, download and print your images. This starter package is perfect if you have split your wedding ceremony and reception into two days.
Overview
Wedding Kathmandu Photographer
7 hours of consecutive coverage on your Engagement Day
10 hours of consecutive coverage on your Wedding Day
6 hours of consecutive coverage on your Reception Day
2,500 edited High Resolution images
Full Video Editing
Online gallery with processed photos for viewing, sharing, and printing
Photo Book album 2 set (Bride/Groom)
Digital download delivery
19in x27 Fream Photo
15in x21 in Fream Photo
Mala Fream
Free Out Door Photo shot
Wedding Photography Services in Kathmandu Nepal
We do capture that every details of the program that are essential for a wedding ceremony. Rituals, venue and decorations, table settings, menus, talking, smiling, and other moments, all are specials to be captured, specially the Brides and Groom. But one thing should be kept in mind; not over shoot anything even bride and grooms, too. All small moments can help to add extra dimension to the album.
All wants to be notice, to be captured. But a wedding photographer should have a capacity to recognize who is important or core family member and who is not. They must be given priority and their activities are more important than others, to which I call the moments. Sometimes we encounter with gaudy and over smart people they just want to show their attitude and order everyone. As a Wedding Grapher we must be remain aloof from those. Normally there will be cooperative and kind people.
We do not believe and rely on any fix style and aesthetic I use all the best technicality and angles to capture them properly and meaningfully. We prefer motion than tripod. The most importantly, present customer and aspire customers, their satisfaction is our sole motto for which I use my experience as a style and technique.
We take it as an exam day with a little excitement, responsibility and opportunity to connect with people to familiar with culture and to expansion of business. Not only our work, but also our behavior too, matters there.Guests don't let us sneak in. Normally we face congestion, inappropriate location, anti-light and unawareness of the host. And some attention seeker and overly smart people as well as camera maniac are the real challenges. But it has a remedy, not to indulge with them. It is difficult to capture every moments. That's why we capture the special moments only. But what is special is depends on customers preference and their rituals. Rituals are importance but momentums are more importance. Bride and Groom's gestures, their feelings, amusements, smiles of dear ones, tears of nears ones are not to be missed.When we capture unforgettable moments and gestures of people we feel deep satisfaction and that is my favorite moment, especially when welcoming and seeing processions off. There is an excitement when they welcoming, and there is a feeling of sadness when they are sending their dear one at someone else home. Wedding ceremony is a perfect avenue to watch and see the human feelings.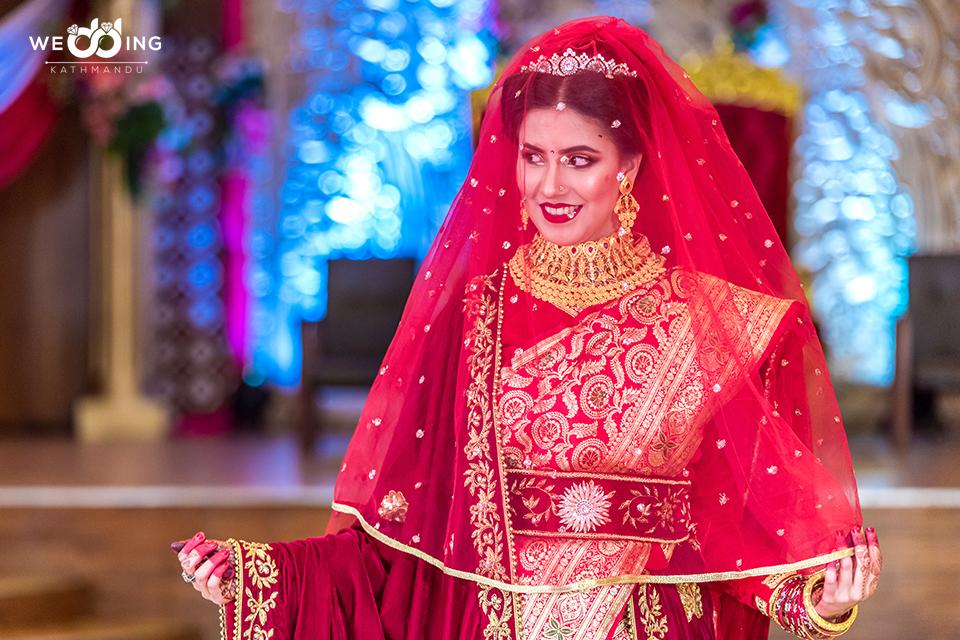 Book now