How To Take & Print Passport Photos With Your Phone
How To Take & Print Passport Photos With Your Phone
Passport Size Photo Print Online
We Provide 8 Copy Passport Size Photo set
weddingkathmandu@gmail.com. Drop Photo Here Please send them right after placing the order to avoid any delay in the delivery.
Nepal Passport Photo Size Requirements
Photo size must be 3.5 cm x 4.5 cm
School/College/Bank
Photo size must be 32mm x40mm
You don't need to worry about the size requirements. Our Photo Editor will help you to get the correct size.
Take Passport Photo
First of all, you need to take a photo using a digital camera Mobile Camera. Please follow the passport photo guidelines to take a photo that is suitable to make passport photos.
Passport photo must be in color.
Photo has white or off-white background. If you take photo against a white wall, there should be no decoration on the wall.
Look straight to the camera. Both ears should be visible.
The photo must be with neutral facial expression.
Both eyes should be open.
Mouth must be closed. No smiling.
Do not wear a hat. Full face must be visible.
There should be no other objects in the photo background or on the face, such as headset. There should be no hair on the face as well.
If possible, do not wear glasses, especially glasses with dark frames. If you must wear glasses, ensure that there is no reflection on the glasses. Both eyes must be clearly visible.
Forehead and eyebrows should be visible. Do not cover eyebrows with hair.
There must be no shadow on the face and behind the head. Please see the tips below on how to avoid shadow in the photo.
Lighting on the face must be even.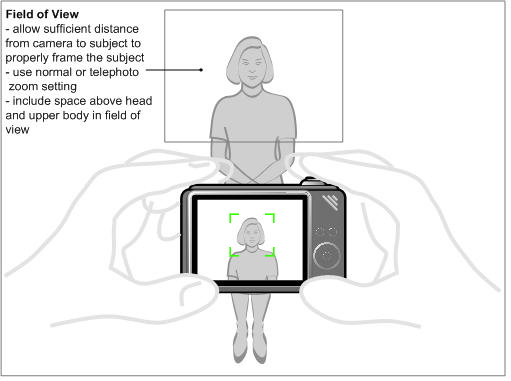 Lighting and Positioning
Take photo in bright room. Use a white wall as background.
Stand one meter away from the wall, otherwise there may be shadow on the wall.
Use a tripod. Adjust the camera position to the eye level.
When adjust the camera distance to leave enough space between the top of the head and top border of the photo.
---